Joined Up Improvement Derbyshire encompasses all things system transformation and improvement – together, we're seeking to do things differently to improve patient care, tackle inequalities, achieve better value for money, and support broader social and economic development.
Our purpose is to inspire ambition, foster innovation and build the network, capability and confidence to achieve improvement success. Through our consultative and enabling programme management office, we offer the tools and resources to deliver successful and sustainable improvement outcomes for our population and our people.
What we do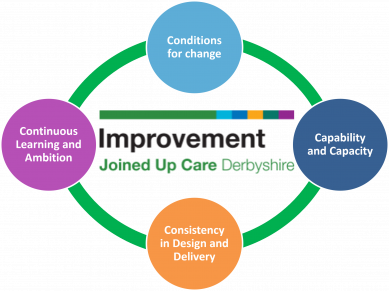 Conditions for change
Establish shared purpose
Stimulate motivation and energy
Encourage engagement and participation by all
Develop confidence in collaboration and co-design
Foster public engagement and involvement
Consistency in design and delivery
Support alignment of focus on strategic outcomes
Establish and oversee standards
Implement robust yet agile programme management processes
Oversee good governance through responsive and proportional approach
Apply best practice improvement tools and techniques
Measure and assure realisation of outcomes and benefits
Capability and capacity
Develop improvement leadership by all
Build capacity and knowledge
Offer education and coaching
Facilitate collaborative 'team' approach
Mobilise resources and align expertise
Continuous learning and ambition
Appraise and learn from failure
Encourage spread and adoption
Share and celebrate success
Foster innovation and ambition
Appraise and support sustainability
We're bringing together colleagues from across the Derbyshire Integrated Care System, including NHS, Local Authorities and the Voluntary, Community and Social Enterprise (VCSE) sector who are passionate about transformation and improvement through 2 forums:
Joined Up Improvement Derbyshire Network
Joined Up Improvement Derbyshire Exchange
Our conversation is open to anyone in Joined Up Care Derbyshire enabling, delivering and passionate about improved outcomes for our population. If you'd like to get involved, please contact ddicb.PMOSupport@nhs.net
Joined Up Improvement Derbyshire Network
Come along to our network conversations to hear updates on system transformation and improvement developments, knowledge and intelligence. Connect with colleagues from across the system transformation space to develop relationships, support each other and access helpful tools.
You can see our previous networks on YouTube. 
Joined Up Improvement Exchange
Join our exchange conversations to share improvement ideas, celebrate improvement success and discover more about the improvement work in progress across the system.
Improvement Learning
COMING SOON… We are developing plans to launch the Quality Service Improvement and Redesign (QSIR) Practitioner Programme for people across Joined Up Care Derbyshire in 2023. Learn more about the QSIR qualification at NHS England.

The NHS England QI Learning Platform offers a range of online improvement courses, available to anyone working in health or social care.  Courses are available that support development of improvement capability at all levels including an Improvement Fundamentals programme of mini courses and a Getting Started with Large Scale Change programme: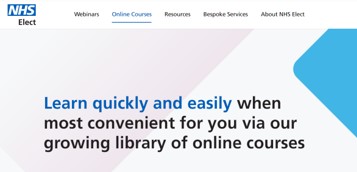 The NHS Elect platform offers a growing library of online courses, including an Introduction to Quality Improvement comprising six modules that can be completed over four hours.
Improvement Teams
To get in touch with the Joined Up Improvement Derbyshire Team please email us at ddicb.pmoSupport@nhs.net
To find out more about or get in touch with the teams that support improvement within our provider organisations: