The benefits of these services working together are: 
Longer opening hours 

Sharing staff 

Better access to specialist health professionals 

Services closer to home 

Ability to share information and technology 
Primary Care Networks are an important building block of developing our current community services to support better delivery of hands-on, personalised, coordinated and more joined-up health and social care. 
The creation of PCNs follows the release of new guidance from NHS England on 31 January 2019 to support the delivery of the NHS Long Term Plan. This guidance included significant changes to the GP contract, including the development of PCNs. 
How Primary Care Networks were formed
CCGs were required to meet three key deadlines which were nationally mandated and set by NHS England: 
All PCNs had to submit registration information to their CCG by 15 May 2019. Each PCN in Derby and Derbyshire achieved this deadline. 

By 31 May 2019, CCGs had to confirm the network coverage and approve the variation to GMS PMS and APMS.

A PCN Application Review Panel for the CCG was established to review and agree PCN registration applications and provide subsequent assurance to relevant Committees.
The membership of the panel was as follows: 
Director of Primary Care 

Local Medical Committees 

NHS England 

Lay members 
This panel was not a voting panel, and the ambition was to achieve a group consensus for each application based on the criteria stipulated within the guidance for PCNs. 
A group consensus was achieved for each application. 
The Panel was responsible for ensuring 100% population coverage of primary care networks. The requirement of NHS England for agreeing PCN applications was as follows: 
"Each Primary Care Network must have a boundary that makes sense to: (a) its constituent practices;(b) to other community-based providers, who configure their teams accordingly; and (c) to its local community." 
On 1 July 2019, the Network Contract goes live across 100% of the country.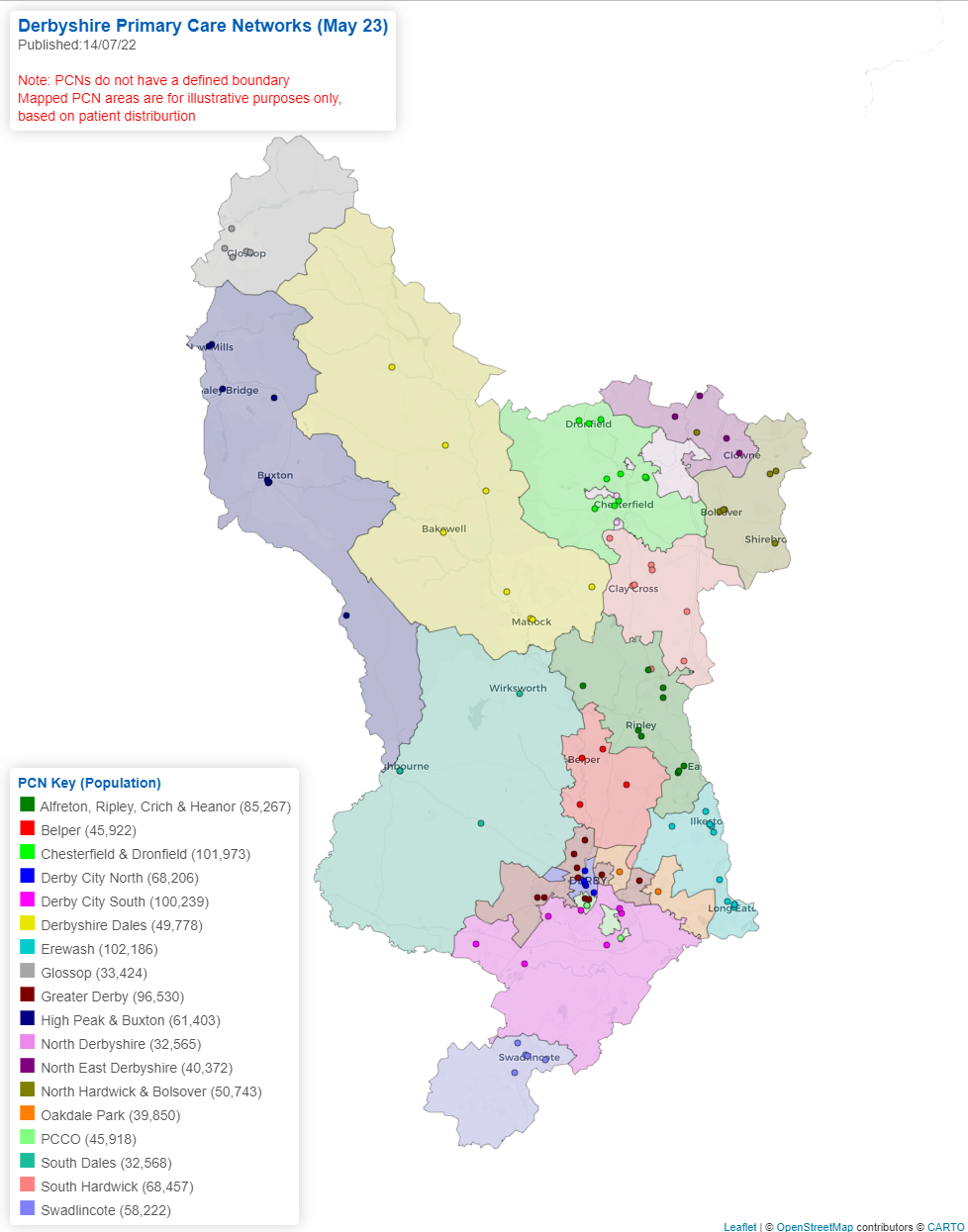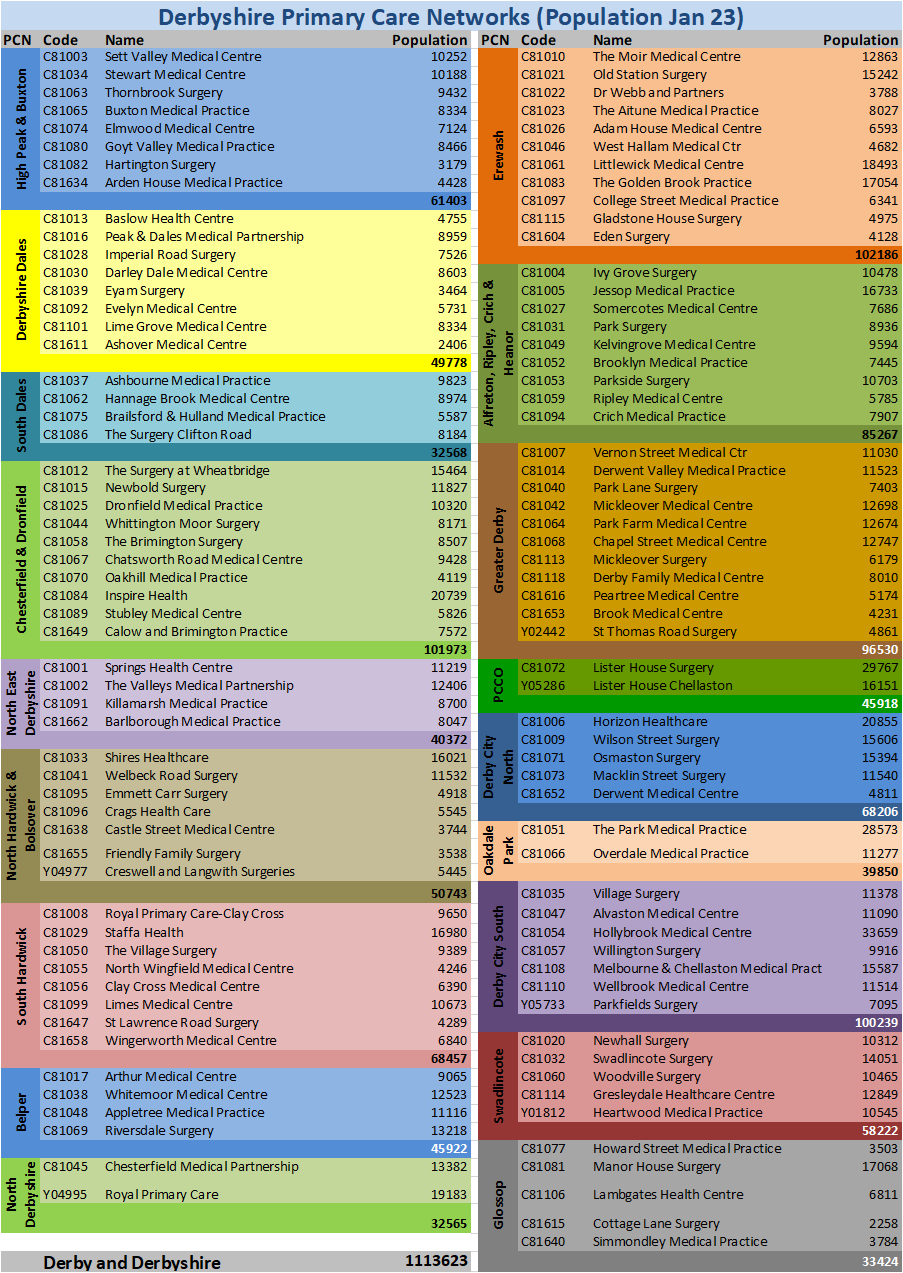 The Primary Care Networks 
PCNs have formed across Derby and Derbyshire, 100% population coverage has been achieved and all member practices of the CCG have joined a Network.
Clinical directors
High Peak
Dr Chris Harvey
Dr Sophie Taylor
South Dales
Dr Penelope Blackwell
Dr Jamie Lewis
North East Derbyshire
South Hardwick
Belper
Dr Helen Fenwick
Dr Andrew Maronge
Greater Derby
Dr Gillian Davidson
Dr Niall McKay
Derby City North
Dr Richard Crowson
Dr Drew Smith 
Derby City South
Dr Riten Ruparelia
Dr Eshan Peiris
Derbyshire Dales
Chesterfield and Dronfield
North Hardwick and Bolsover
Alfreton, Ripley, Crich & Heanor (ARCH)
Dr Nicholas Hall
Dr Sess Sibanda
Dr Justine Reid
Erewash
Dr Duncan Gooch
Dr Anthony Shanks
PCCO
Dr Mahya Johnson
Dr Sophie Harvey
Oakdale Park
Dr Helen Hill
Dr Simon Gregory
Swadlincote
Dr Mark Rooney
Rebecca Bromley
Mrs Sue Clover
Other useful links: