What is the LMNS?
The Local Maternity and Neonatal System (LMNS) is the collective term for the clinicians, managers, services users, Local Authorities, NHS providers and commissioners who come together to plan, deliver and evaluate maternity services within the Joined Up Care Derbyshire ICS, to meet the needs of pregnant people, babies and families. 
The LMNS was established in 2016 and is considered the maternity arm of the ICS. The LMNS is taking on greater responsibility for ensuring that maternity services are safe for all who access them and is accountable to the ICS for doing so.
Maternity Service Providers
Within Derbyshire, two hospitals provide maternity and neonatal care.
Service Users
Derbyshire Maternity and Neonatal Voices is a group of service users, local groups, maternity and neonatal staff working together to hear the voice of the community and coproduce services.

What do we do?
NHS England and Improvement monitors maternity services nationally and provide guidance on service priorities based on recommendations to improve safety and quality of maternity and neonatal care.
This includes:
To oversee the quality and safety of maternity and neonatal care in our area
To help services recover from the impact of the Coronavirus pandemic
To share information and learning between different organisations and partners and to help them turn this into service improvements
To oversee the implementation of the recommendations from The Morecambe Bay Investigation (2015), The Independent Review of Maternity Services at the Shrewsbury and Telford Hospitals NHS Trust (2020 and 2022) and any other national investigations and reviews
Key reports
The Report of the Morecambe Bay Investigation (2015)
Saving Babies Lives Care Bundle 3 (2023) – NHS England » Saving babies' lives version three: a care bundle for reducing perinatal mortality
Maternity and neonatal services in East Kent: 'Reading the signals' report Maternity and neonatal services in East Kent: 'Reading the signals' report – GOV.UK (www.gov.uk)
Key principles
The following are key principles for improving the experience of service users and form a central theme through all aspects of care
Personalised Care and Support Planning in Maternity Services 
Maternity and Neonatal Equity and Equality Action Plan 2022-27
This five year plan sets out how we intend to make maternity and neonatal services fairer for everyone with particular focus on those from Black, Asian, mixed and minority ethnic backgrounds, those living in the most deprived areas and those that we know have poorer health outcomes. We also want fair and equal treatment for all our staff. We will review the plan on a yearly basis.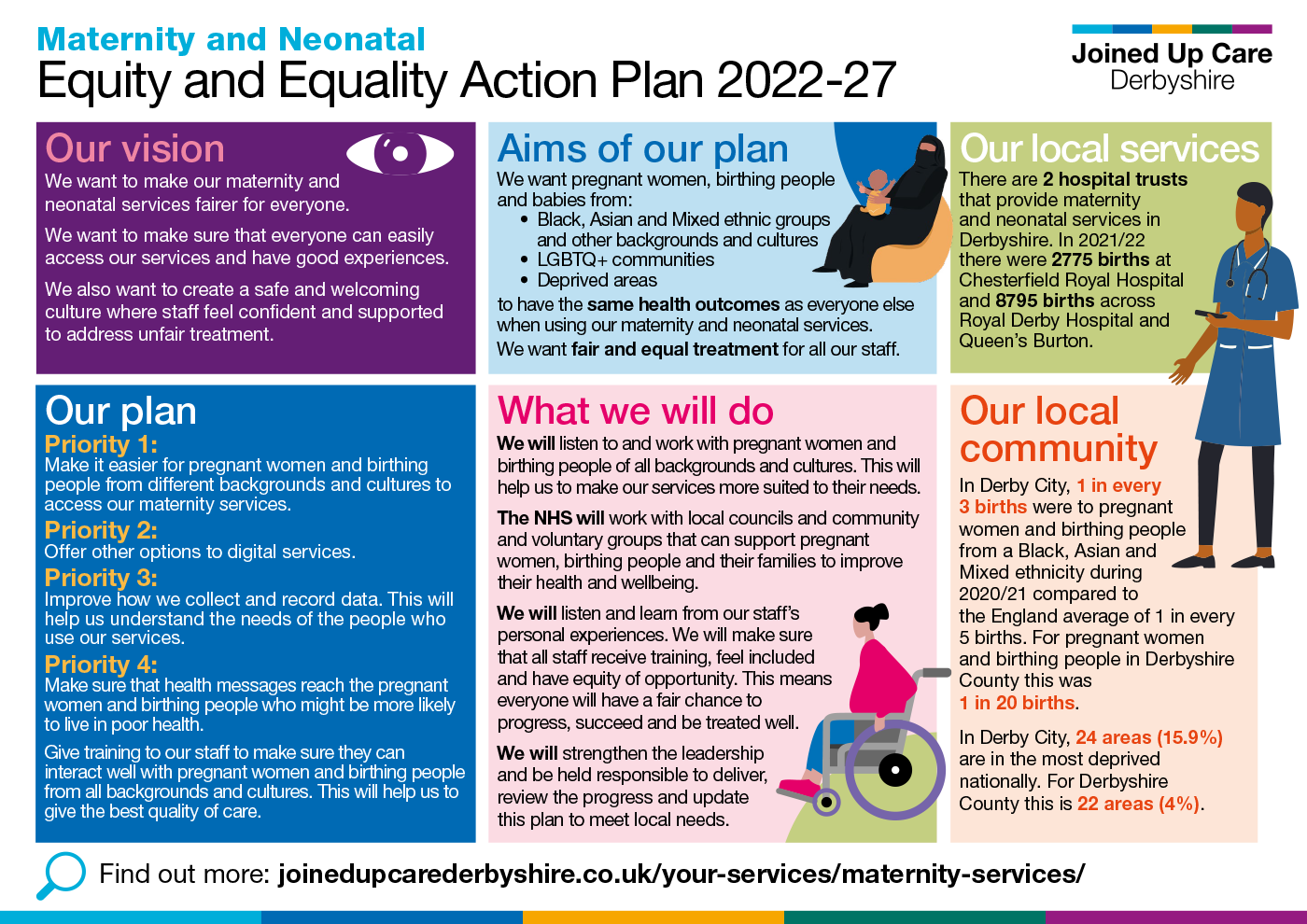 Our priorities
Our aim is to support families to maintain their own health and wellbeing and some of our key priorities to support this are: