A stepped approach to the promotion of mental health and wellbeing is recommended, whether you are considering staff, resident wellbeing or both. Not everyone will require signposting to specialist mental health services, and input at an early stage can often prevent later mental health distress. 
Non-mental health organisations have a big part to play in the promotion of mental health and wellbeing. This section of the website focuses on what you can do to support others, as a non-mental health organisation. 
The model below provides a guide for you to plan and structure your organisation's response to mental health and wellbeing. This model may help you identify areas of strength in your organisation, and also areas to focus on. On this page you'll find a description of each step, suggested actions at each level, and links to recommended signposting and resources. 
About 
The Framework for Action has been developed to support non-mental health organisations to promote mental health and wellbeing in Derby and Derbyshire. The framework is relevant for any organisations that are supporting others right now – including staff, volunteers, or residents.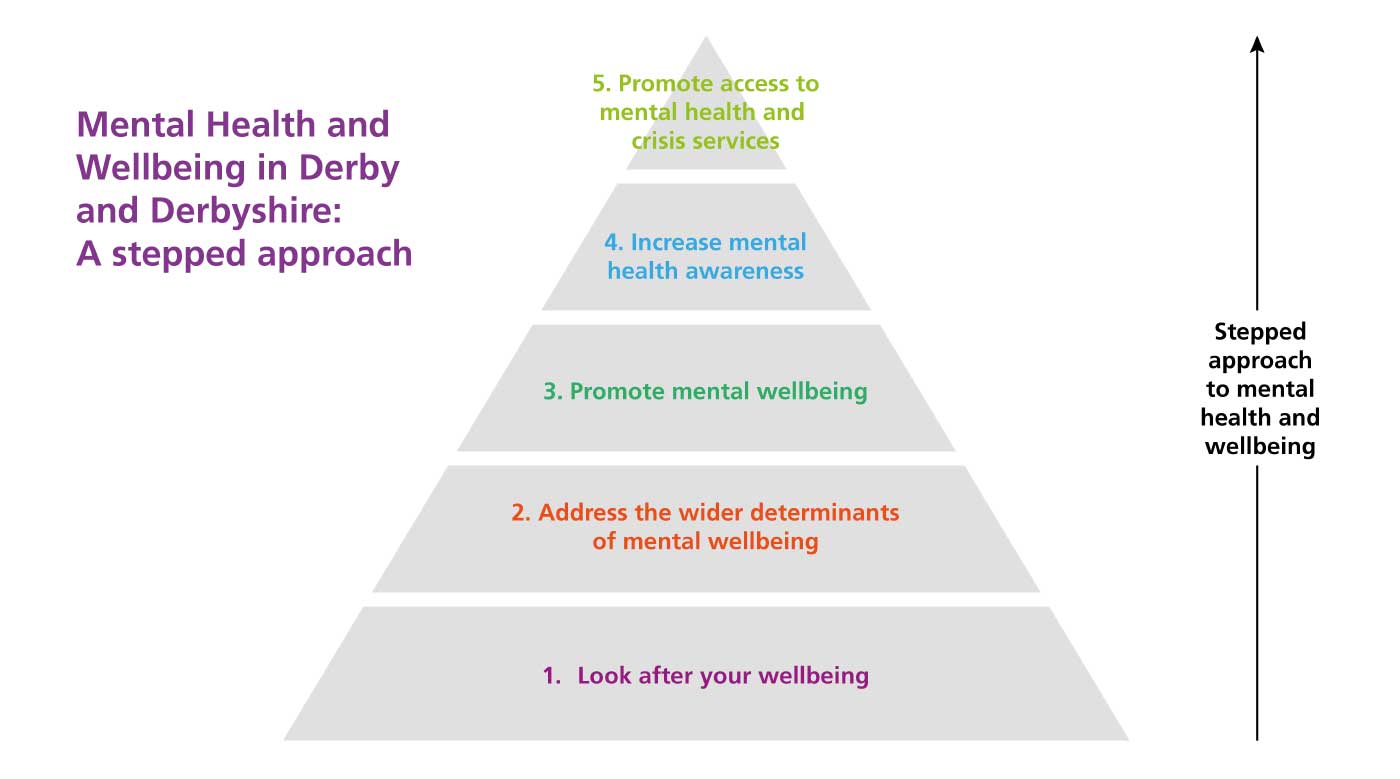 We all have mental health and we all need to look after it. We are all human; it is okay not to be okay and it is okay for us to ask for support. 

You are going through the pandemic at the same time as those you are supporting. Though everyone's situation is different, this can be an added challenge to consider. 

For many leaders at this time, it can feel hard to have permission to be human, and to having a human response. It's okay for you not to have all the answers, no one does. As leaders your wellbeing matters too, and it's a really important place to start. 

How to look after your well-being

Take a moment, and check-in with yourself. How have you been doing? What do you need? What do you need to do more of? Less of? Who can support you? 
Before you consider the wellbeing of others, consider what you need to put in place for yourself. Perhaps daily wellbeing reminders? Regular breaks? New ways to socially connect? Permission not to be available 24/7. 

Key resources for your well-being

Staff Support Joined Up Care Derbyshire website. You'll find a range of information on looking after your wellbeing and mental health on these pages. Including support around bereavement, trauma, and managing anxiety. 

Mind wellness action plan and website. Mind has a great range of information and resources to support personal wellbeing at this time.