JUCD Wellbeing receives Highly Commended at PPMA Awards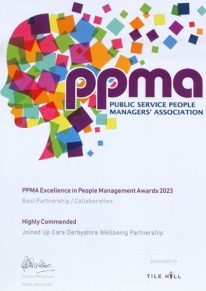 Joined Up Care Derbyshire's Wellbeing team  received a prestigious and sought after Highly Commended Award at the recent Public Services People Managers Association (PPMA) Excellence in People Management Awards.
Shortlisted for the Best Partnership/Collaboration, the JUCD Wellbeing collaboration were one of seven finalists in this category which commends collaborations of two or more public or private sector bodies who are working together to provide a more seamless, efficient, and integrated service.
The PPMA Awards ceremony, held on 27th April at the Hilton Metropole, Birmingham, saw the JUCD wellbeing initiative commended for its excellent efforts in joining together to develop and deliver an improved and equitable wellbeing service, offering support to a wider workforce across its system.
The team were delighted to be awarded a coveted Highly Commended Award in what proved to be a tough category to compete in – with the category winner, Connect2Luton, going on to win the evening's overall Gold Award. 
Jerry Sanderson, Head of Health, Safety & Wellbeing, Corporate Services and Transformation, Derbyshire County Council said:
This year the PPMA Excellence in People Management Awards received a record number of entries, so we were delighted to make the shortlist in the Best Partnership/Collaboration category.

To receive a Highly Commended Award in this category was fantastic recognition for the team and testament to the hard work and commitment demonstrated by everyone across our organisations who are working collectively to develop the wellbeing service.
James Buckley, ICB Head of Wellbeing and Workforce Health Services said:
We're delighted to receive a Highly Commended Award in such a competitive category, which is credit to our hardworking and dedicated wellbeing team, who continuously strive to develop and deliver a fully comprehensive service to support our colleagues' health and wellbeing.

The JUCD Wellbeing Service has revolutionised the health and wellbeing culture within our constituent organisations. Our collaborative approach enables us to share knowledge, resources and skills, establishing a person-centred model of sustainable, accessible and equitable preventative wellbeing support.

The Award recognises the team's systemic leadership and data-driven approach to developing the service. Utilising data analysis & colleague feedback, the wellbeing service continues to evolve, providing bespoke Peer Psychological Support and Muscular Skeletal support to colleagues to help improve, support, and promote Workforce Availability.

After successfully winning the Nursing Times Workforce Wellbeing Initiative of the Year Award in 2021, the team are delighted to be celebrating the success of another award with this year's PPMA Highly Commended for Best Partnership/Collaboration and we're reflecting on how far we've come in a short space of time.
The JUCD collaboration are proud to feature in the PPMA Winner's brochure alongside the full list of winners and Highly Commended Award winners.