JUCD Wellbeing Win HPMA Excellence in People Award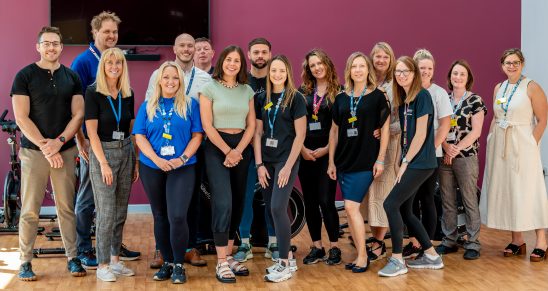 Joined Up Care Derbyshire (JUCD) Wellbeing team are celebrating after being announced as the winner of the University of Bradford award for cross-sector working at the Healthcare People Management Association (HPMA) Awards ceremony on 19th September 2023.
JUCD wowed the judging panel with its hugely successful wellbeing initiative – a collaboration of over eight anchor organisations which focuses on a joined-up approach to working to develop and deliver an improved wellbeing service to support a wider workforce across the system.
The collaborative team supports in the region of 40,000 health and social care colleagues across Derbyshire, Derby City, and East Staffordshire, delivering a wealth of wellbeing programmes and initiatives to help colleagues remain healthy and well at work.
The enterprise was praised as an exemplar approach of cross sector working and saw the team crowned as worthy winners in a highly competitive category.
James Buckley, ICB Head of Wellbeing and Workforce Health Services said:
We're delighted to win the University of Bradford Award for cross sector working.

The JUCD Wellbeing service has revolutionised the health and wellbeing culture within our constituent organisations. Our collaborative approach enables us to share knowledge, resources and skills, establishing a person-centred model of sustainable, accessible and preventable wellbeing support that could never have been realised by the organisations in isolation.

I am immensely proud the team has been recognised for their hard work and commitment to the health, safety and wellbeing agenda and to witness the team's incredible progress.
The HPMA Award is the latest in a series of prestigious accolades for the team.
After successfully winning the Nursing Times Workforce Wellbeing Initiative of the Year Award in 2021, the team recently celebrated receiving a coveted Highly Commended Award for Best Partnership/Collaboration at the PPMA Awards ceremony in May 2023. And on 14th September 2023, the team celebrated winning the Most Inclusive Menopause Friendly Employer Award, at the Menopause Friendly Employer Awards ceremony.
Caroline Wade, Senior Responsible Officer, JUCD Health and Wellbeing / Director of Human Resources and Organisational Development at Chesterfield Royal Hospital NHS Foundation Trust, added her praise to the team for their success:
What an incredible achievement for our fabulous JUCD Health and Wellbeing team who are testimony to the strength gained through cross-sector working.

The team were up against some stiff competition at the national HPMA awards this year; the judges praised the team for their passion and commitment, remarking on the team's clear focus on making a difference for colleagues right across the health and social care sector.

I could not be prouder of everything the team has achieved in the last year – their hard work and compassion shines through. Congratulations to everyone at JUCD Wellbeing!