NEW Employee Assistance Programme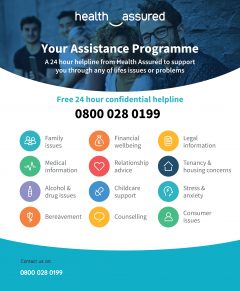 JUCD Wellbeing is excited to launch a NEW Employee Assistance Programme (EAP) to provide an improved mechanism of wellbeing support for colleagues.
The new EAP, from award-winning wellbeing provider, Health Assured, delivers a wealth of health and wellbeing benefits for colleagues to access, alongside Manager-specific support.
Replacing our existing CiC Employee Assistance Programme, the new and improved Health Assured Assistance Program is available from 1st October 2023 onwards, accessible to our JUCD partner organisations who currently utilise our existing EAP, please see your local comms for more information.
EAP Support
The new EAP from Health Assured provides a free, confidential support and guidance service, supporting colleagues with personal and/or professional related problems that may affect their overall health and wellbeing.
Support for colleagues includes:
24/7/365 Helpline – unlimited access to our 24/7/365 confidential UK based telephone helpline for you and your immediate family members* by calling 0800 028 0199
Counselling – access to up to 10 sessions of face to face and telephone counselling, per person, per issue, per year; including access to menopause specific counselling and support for anxiety and depression. Four sessions of life and leadership coaching are also available as part of the EAP
Financial Support – information, help and guidance for financial issues such as debt management, budgeting, mortgage advice, benefits and grants
Legal information – support with legal matters such as divorce, wills and probate, motoring issues and personal injury, in addition to consumer, property, or neighbour disputes that can cause emotional distress
Bereavement Support – advice, guidance, and counselling for grief in bereavement, as well as legal support for grief related legal matters
Medical Information – practical advice, guidance, and support from qualified nurses for a wide range of medical related health issues
Active Care – effective intervention on the very first day a fit note is received for a stress related absence
 Manager and Human Resources support:
24/7 critical incident stress management telephone support
Manager consultancy and support
Manager's Helpline Referral
Active Care – Day One intervention for stress
Employment Law and HR Line
Mental Health First Aid Courses
Work health assessments – medical opinions and impartial reports on fitness to work
To Access Support from the new EAP:
Whether you would like to speak to a trained and experienced counsellor or to access practical information, support and guidance, call the free confidential helpline on 0800 028 0199 available 24/7/365
If you are a manager requesting assistance/support for your team, simply call the helpline number, explain that you're a manager in need of assistance, and you'll be put through to the relevant department. You'll also be able to arrange future telephone appointments with the same counsellor or advisor to discuss continued support and progress.
*Please note – the EAP provides support for you and your immediate family – this support, as specified by Health Assured, includes your partner and dependents (aged 16-24 and in full time education) that are living in the same household
EAP Additional Support Features
Colleagues will also soon be able to access additional programmes of wellbeing support via Health Assured's dedicated online portal and digital app.
Offering a virtual library of information, the online support will include a variety of self-help guides, fact sheets, webinars, wellbeing videos and programmes, to help colleagues manage their physical, mental and emotional health.
As part of the digital arm of support, online counselling and Cognitive Behavioural Therapy (CBT) will also be provided to support a wide range of needs including anxiety, depression and menopause.
Health Assured's digital portal and app will be available to colleagues in the coming weeks. We will provide further information when these online features become available to access.