September Support from Your Wellbeing Team
Ahead of World Suicide Prevention Day, on Sunday 10th September, the JUCD Wellbeing team are highlighting the wealth of support available throughout September to support colleagues who may be struggling with their mental health.
The following Wellbeing Timetable sessions are available for colleagues to book via the easy online booking platform >
How to Alleviate Anxiety – learn how to spot anxiety symptoms, predictors & triggers, alongside coping methods to challenge unhelpful thought patterns & redefine behaviour patterns. Weds 6th Sept, 6.30pm – 7.30pm. Virtual
Let's Chat Men's Mental Health – join us for a conversation with Mentell, an organisation providing mental health support in Derbyshire and across the UK. Mentell creates safe, confidential & non-judgemental spaces for men to talk, listen or connect with others. Weds 13th Sept, 11.30am – 12.30pm. Virtual
Positivity Workshop – discover the concept of positive psychology and learn tools to help boost your mood and encourage positive emotions. Thurs 14th Sept, 12pm – 1pm. Virtual
Relax & Reflect Workshop – join this 2 hour Relax & Reflect session to help unwind & de-stress, with Yin Yoga, guided meditation, journaling & wellbeing conversations to support mental wellbeing. Thurs 14th Sept, 5pm – 7pm, County Hall, Matlock
REACT Mental Health Conversation Training – this short practical and skills-based conversation training enables staff to have effective and supportive conversations about mental health with their colleagues. Friday 29th Sept, 10am – 11.30am. Virtual
Pit Stop Men's Mental Health Group – Men's health group offering a confidential, safe and supportive environment for colleagues to meet, chat & support each other online. Every Monday from 12pm – 1pm.
Doctors in Distress – weekly online support group run by Doctors in Distress, a confidential space for colleagues to talk openly about challenges & share experiences. Every Weds from 12.30 – 1.30pm.
In addition to the timetabled support sessions, colleagues can also book Suicide Awareness Sessions via our JUCD Suicide Prevention team. Lasting approximately 1 hour, sessions cover risk factors for suicide, spotting the signs of suicidal ideation and how you can help. If you wish to book a bespoke suicide awareness session for your team, please email Katherine Rowe: k.rowe6@nhs.net.
World Suicide Prevention Day is hosted on 10th September each year by the International Association for Suicide Prevention and this year's theme is 'Creating Hope Through Action.'
A great action that anyone can do is to take 20 minutes to complete the Zero Suicide Alliance training. Anyone can learn to have a lifesaving conversation and this short training aims to give you the skills and confidence to help someone who may be considering suicide.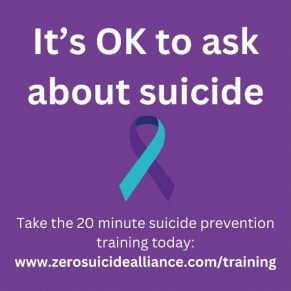 Sadly thousands of people in the UK take their own lives each year. By raising awareness, reducing the stigma, and encouraging action, we can work together towards reducing the instances of suicide locally.